BC Property Assessment vs market value?
How BC Assessments affect the value of your home.
Vincent Chan is a Director and partner at Meryl.REALTOR. His background includes Business Development | Strategic Marketing for real estate and law firms. Formerly he was a Director of Development & Marketing at Electronic Arts. His passions include architecture, interior design, writing, photography and design. You can reach him via email: [email protected]
What is the BC Assessment value?
Each year, the British Columbia Assessment (BCA) analyzes property values across the province in order to determine the value of homes and this is used as the basis for property tax calculations.
Assessments are the estimate of a property's market value as of July 1, 2019 and adjusted for physical condition and zoning as of October 31, 2019. The market value is used because this method has been elected as the most fair way to distribute property tax burden.
BC Assessment value vs Market Value
BC Assessment carries out assessments on the same dates across the province in order to be fair since the main goal is for determination of property tax. (READ our article on Property Tax Calculations) However, this publicly available assessment is also used for determination of market value by appraisers and estimators for a variety of reasons (equity determination, loan risk or loan-to-value ratios, listing prices, etc.). The appraisers and estimators do not have a standardized approach in their estimates and this causes confusion.
Clearly, BC Assessment property values are NOT the same as current market values because it is taken at a singular point in time and does not reflect current market changes.
Is my BC Assessment value a good indicator of my current property value?
BC Assessment property values are a great method of communicating a standard baseline value. It can be used as a component in arriving at estimates like listing price, current market estimates, loan-to-value ratios, et cetera; However, BC Assessment values should only be used as one component in the determination of property value. Of course, assessed values can be similar or the even the same as market values in a slow moving market but lately, this has not been the case. We have seen some appraisals rely primarily or solely on BC Assessment values…but this is too simplistic and generally poor guidance.
Does BC Assessment values predict future property value trends?
BC Assessment values are a lagging indicator and only a reflection of market prices at one point in time. A singular sample in time is never a statistically good indicator of any trend over time. However, there is an emotional influence over how buyers or sellers feel about their property values and this will naturally affect how parties negotiate.
BC Assessment 2020 values

In the table below, BCA summarizes percentage (%) change in assessment values from 2018 to 2019 for Greater Vancouver and Fraser Valley. We can see that in Greater Vancouver, there are mostly drops but that there are % increases in specific areas of the Fraser Valley like Whistler, as well as for commercial and industrial property types.
---
On a more local level, the BC Assessment values in the City of Vancouver, dropped between -8.8% to -10.20% for all types of residential homes. In Coquitlam, BC Assessment values dropped from -9.3% to -10.7%. In the opinion of Ramaish Shah, a deputy assessor at BC Assessment, "I would consider anything from 0-10 per cent a stable market, where prices aren't changing dramatically …"
Property Type
Greater Vancouver
% changes (Assessments 2019 vs 2018 as of July 1, 2019)
Fraser Valley
% changes (Assessments 2019 vs 2018 as of July 1, 2019)
Residential Single Detached Homes
-15% to 0%
-15% to +5%
Residential Strata Units
-15% to 0%
-15% to 0%
Commercial
-15% to +20%
-5% to +25%
Industrial
-5% to +20%
0% to +25%
---
How to stay up to date with the market value of my home?
While the British Columbia Assessment (BCA) provides a good baseline for estimation, there are many other factors that go into a home evaluation. Here are our top 3 recommendations:
---
---
NEIGHBOURHOOD MARKET INSIGHT REPORT
Get SOLD Prices and New Listings
View recent sold prices
Average asking prices
How fast are homes selling?
Is it a buyers or sellers market?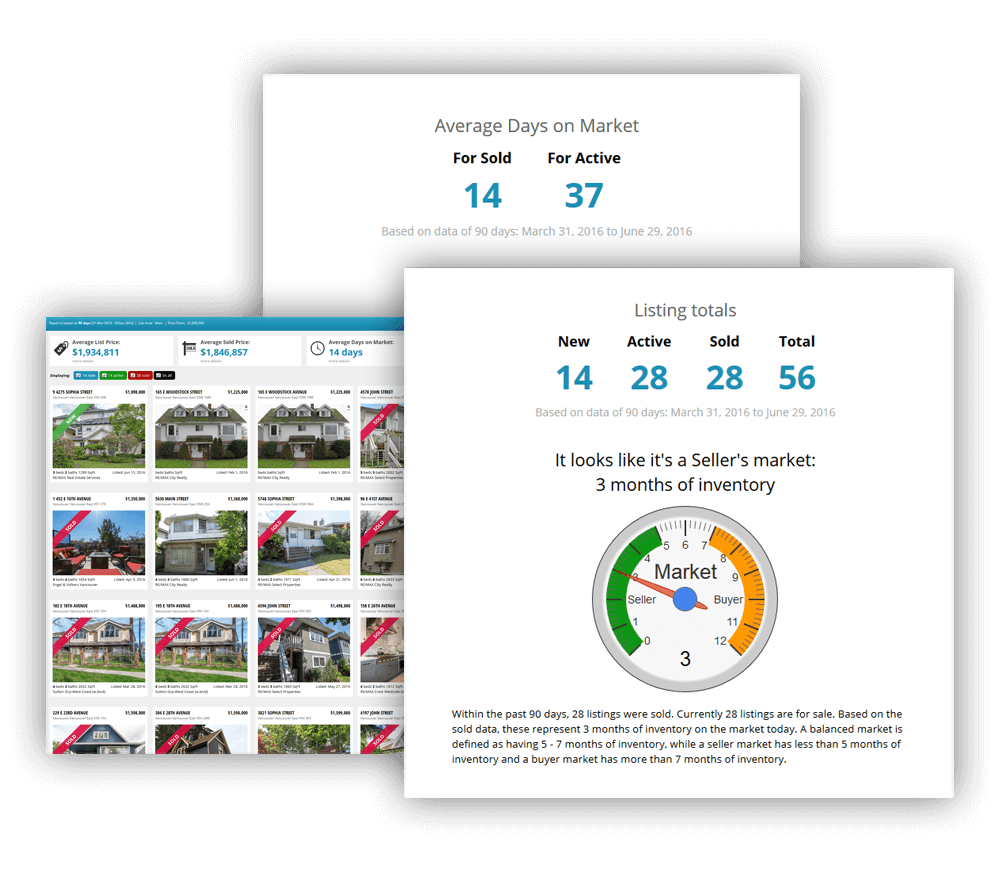 ---
Frequently Asked Questions
How does BC Assessment determine the value of my home?

According to BC Assessment, information about a property is gathered during construction and renovation. After that appraisers review market data every year on July 1st. The physical condition and zoning of the property is reviewed by October 31st. Finally assessment information begins to be sent out December 31.
What are important dates for property assessments?

July 1st is the market valuation date for following year's assessment.
October 31st is the condition and zoning review
December 31st is the date notices are sent for the upcoming year.
Jan 31st is the deadline for homeowners to request a review or appeal their home assessment value.
Does a drop in BC Assessment value mean a proportional drop in property taxes?

No. Each municipality uses the BC Assessment to determine how to distribute its property tax budget. For example, the city of Vancouver elected to raise its property taxes by 7% in 2020 and this increase will be distributed amongst homeowners in Vancouver depending on their BC Assessment in % relation to all other homeowners' values.
---