Find the BEST NEIGHBOURHOODS with our updated Coquitlam neighbourhood guide!
This Coquitlam Neighbourhood Guide has been crafted and brought to you by Meryl & Associates
We are a local team of real estate experts with leading qualifications who are dedicated and proud to serve you. If you are looking for a REALTOR, reach out and find out why we have so many passionate recommendations! Call or text 604.307.9506
Click on a neighbourhood!
and View the neighbourhoods homes and area.
<div class="ghostkit-d-block ghostkit-d-xl-block ghostkit-d-lg-block ghostkit-d-m-block ghostkit-d-sm-block"><div class="data-containerVCQ" align="center"><h2 style="font-family:Raleway;color:aqua;background-color:black;text-align:center;">COQUITLAM NEIGHBOURHOODS MAP - Click to visuals and listings of neighbourhood homes</h2>
<div id="map_hoodlistings" style="width: auto; height: 500px;"></div>
<script async type="text/javascript">
displaymapvkc("tri_hoods","coco","hoodlistings");
</script></div></div>
Author:  Meryl Hamdillah, REALTOR with Sutton WestCoast Group.
If you are looking for a realtor to help you buy or sell a property in Coquitlam or Vancouver, feel free to Chat with me now! 604-307-9506
Coquitlam History
Land Acknowledgement
We acknowledge with gratitude and respect that the name Coquitlam was derived from the hən̓q̓əmin̓əm̓ word kʷikʷəƛ̓əm (kwee-kwuh-tlum) meaning "Red Fish Up the River". The City is honoured to be located on the kʷikʷəƛ̓əm (Kwikwetlem) traditional and ancestral lands, including those parts that were historically shared with the sq̓əc̓iy̓aɁɬ təməxʷ (Katzie), and other Coast Salish Peoples.

History
The area of Coquitlam Lake and Coquitlam River watersheds have been occupied by Kʷikʷəƛ̓əm First Nations and Coast Salish First Nations for thousands of years. The 1800s saw European settlement for agriculture and gold panning in the watershed. 1891, the municipality of the District of Coquitlam was officially incorporated.
Coquitlam's name origin
Coquitlam kʷikʷəƛ̓əm (kwee-kwuh-tlum) meaning "Red Fish Up the River" refers to the genetically unique Red sockeye salmon that used to travel up and down Coquitlam River and streams in large numbers.
Coquitlam's Regional Areas
Coquitlam forms an S-Shape boundary divided into 4 large areas. Southwest, City Centre, Northwest, Northeast. Within these major areas, the city divides into 23 smaller areas which roughly correspond to neighbourhoods in our guide.
ABOUT COQUITLAM NEIGBOURHOODS
Coquitlam Neighbourhood Guide 2023 frequently asked questions.
What are the neighbourhoods in Coquitlam?
I can't find a Coquitlam neighbourhood in the REBGV list?
Some Coquitlam neighbourhood names are either popular names or are names defined by the City for planning purposes. As a result, these names may not match the Real Estate Board's names. Don't worry, we have you covered. CHECK here to find neighbourhood name equivalents!
What is population growth rate in Coquitlam?
Coquitlam is one of the highest growing Metro Vancouver cities with a population of 149,490. In fact, the expected growth is 1.2% from BCstats.
Which Coquitlam neighbourhoods have the highest development growth?
The Southwest Coquitlam area has the most condo development activity that is primarily concentrated in Burquitlam 67%. The next highest condo development activity is in City Centre and Burke Mountain area at 29%
---
---
COQUITLAM MLS LISTINGS
Get SOLD Listings and Market Insight
View recent sold prices
Average asking prices
How fast are homes selling?
Is it a buyers or sellers market?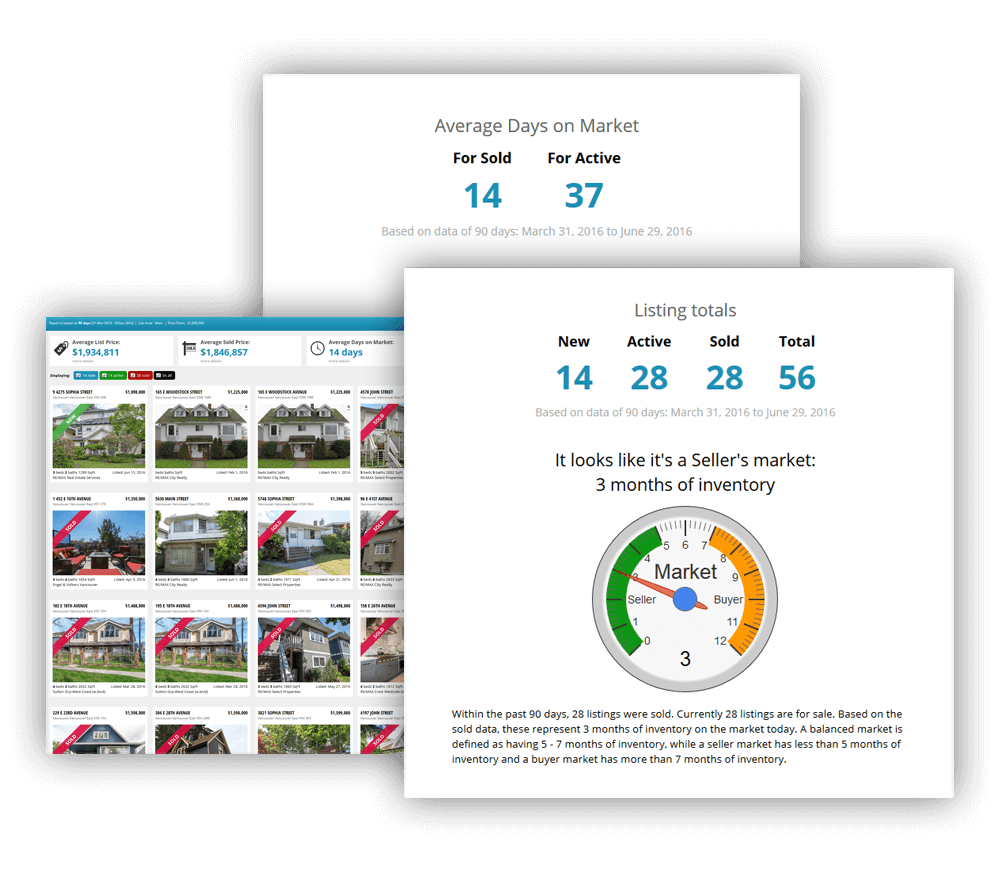 NAMES OF COQUITLAM NEIGHBOURHOODS have 2 origins
The City of Coquitlam defines neighbourhood names for planning and development. This means that names can change along with changing plans. Because of this, both the city's neighbourhood names and their geographic boundaries may change. Occasionally, new neighbourhood areas are created. If this is confusing, don't worry, we are here to help. Here are some common popular neighbourhood names along with their corresponding Real Estate Board names.
| | |
| --- | --- |
| CITY DEFINITION | REAL ESTATE BOARD DEFINITION |
| BURQUITLAM-LOUGHEED | COQUITLAM WEST |
| DOWNTOWN | NORTH COQUITLAM |
| CITY CENTRE | NORTH COQUITLAM, CANYON SPRINGS |
| PARTINGTON CREEK (NEW) | BURKE MOUNTAIN |
| SMILING CREEK (NEW) | BURKE MOUNTAIN |
| LOWER HYDE CREEK (NEW) | BURKE MOUNTAIN |
| UPPER HYDE CREEK (NEW) | BURKE MOUNTAIN |
| WATERFRONT VILLAGE CENTRE | CAPE HORN |
| PACIFIC MAYFAIR | CAPE HORN |
| EAGLE RIDGE | UPPER EAGLE RIDGE, LOWER EAGLE RIDGE, SCOTT CREEK, SUMMIT VIEW, WESTWOOD SUMMIT |
| CENTRAL COQUITLAM | CENTRAL COQUITLAM, HARBOUR CHINES, HARBOUR CHINES, HARBOUR PLACE, CHINESIDE |
| AUSTIN HEIGHTS | CENTRAL COQUITLAM |
| RIVER HEIGHTS | COQUITLAM EAST |
| NEW HORIZONS | HOCKADAY NESTOR |
Community Demographics for COQUITLAM NEIGHBOURHOODS
The 2021 Census shows the population of Coquitlam to be 148,625. BCStats estimates population in Coquitlam is around 149,490 growing at a rate of 1.2% per year. In fact, this is just below Metro Vancouver's growth rate of 1.5% per year.

Coquitlam's Community Demographic Planning Profiles provide more demographics used for planning specific key neighbourhoods/planning areas below.
---
CRIME STATISTICS – Coquitlam neighbourhood guide
The RCMP Coquitlam Detachment patrols and investigates 24/7 in the City of Coquitlam and Port Coquitlam. Meanwhile, Port Moody has their own police detachment. Coquitlam enjoys relatively low crime rates as reported in StatsCanada's crime rate reports. In 2021 the overall rate of crime (per 100,000) was 5,120 in Coquitlam as compared to Vancouver's rate of 6,455. and Surrey's rate of 7,281. Port Coquitlam crime rate in 2021 was 6,018, and for Port Moody: 2,942. Please note that these numbers do not indicate level of safety and only reflect comparison of statistical occurrences of crime incidents.
---
TRANSPORTATION – Coquitlam neighbourhood guide
Public transportation has been critical to growth of the city. Residents, businesses, workers, and visitors rely on the transportation system for their daily lives. Coquitlam has different choices of transportation networks that are interconnected. The choices include buses, skytrain, West Coast Express, cycling routes, roads, pedestrian walkways.
---
BUS
Translink and Coast Mountain provide public buses throughout Coquitlam. The major stations are Coquitlam Central Station, Lafarge Lake-Douglas, Lincoln, Lougheed Town Centre Station, Burquitlam Station, Moody Centre Station. Translink provides a map here.
RAPIDBUS
Plans in motion for RapidBus (formerly B-Line) to provide air conditioned, limited stop buses to connect Haney Place Mall in Maple Ridge through Port Coquitlam, Pitt Meadows to Coquitlam Central Station.
SKYTRAIN
The Evergreen Extension of the Millenium Line connects Coquitlam to the Skytrain network (Canada Line, Expo Line, Millenium Line). This network directly connects Coquitlam to Port Moody, Burnaby, New Westminster, Vancouver, Richmond, and Surrey. The Evergreen extension starts from Lougheed Town Centre Station in Burnaby eastward for 6 stops: Burquitlam Station, Moody Centre Station, Inlet Centre Station, Coquitlam Central Station, Lincoln Station, Lafarge Lake-Douglas Station. The last 3 stations cover Coquitlam city centre North to South.
WEST COAST EXPRESS TRAIN
This urban commuter rail line connects Mission City in the East to Waterfront Station where you can catch the Skytrain or Bus in Vancouver. In Coquitlam, you can catch the WCE train at Coquitlam Central station (skytrain station) and Moody Centre (skytrain station). Most commuters use this to commute to downtown Vancouver. The optional skytrain stations provides an alternative to the WCE.
---
SCHOOLS – Coquitlam neighbourhood guide
Coquitlam and Port Coquitlam Public Schools are governed by the Board of Education School District No. 43 (SD43). 32,000 students attend SD43's 70 schools. There are 13 Pre-school locations (StrongStart – call us for info), 45 Elementary Schools (grades K-5), 14 Middle Schools (grades 6-8), 11 Secondary Schools (grades 9-12), and several Adult Continuing Education locations. SD43 School websites.
---
SCHOOL CATCHMENTS
Each school has a defined area of coverage as the home base for students. The home base or catchment for your school depends on where you live. Although parents and students must register in their catchment area school; they can however, choose to go to a different school by registering at the other school depending on availability. There are different reasons parents go "cross-catchment". A popular reason may be to select a Program of Choice. For example French Bilingual, Mandarin Bilingual, Montessori, or Community School. The SD43 school board provides an official catchment locator tool; however to assist parents who prefer a visual map to see nearby catchments, we have developed a map of catchment areas where you can type in an address and it will show you the catchment on the map. See link below:
---
---
---