REALTOR® + local property experts with decades of legal, sales & marketing experience. Meryl has a dedicated team and a wide network of professionals to help you buy, sell or invest. Call

604-307-9506

and find out more with no-obligation.


meet Meryl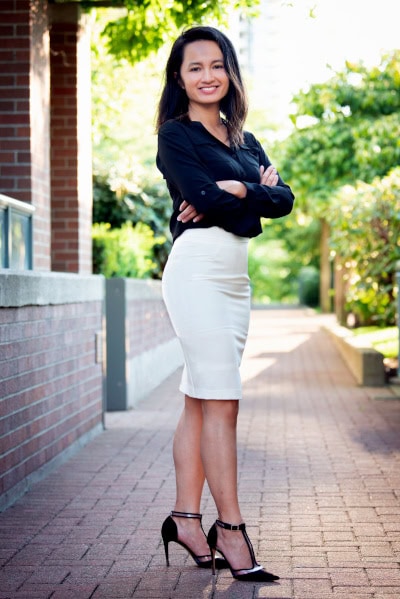 Meet the team that has been setting a shining pace in the local property market by helping clients and professionals BUY & SELL in Vancouver, Burnaby, Coquitlam, MapleRidge, +++
---
---
Kristina Zhuang
14/03/2022
recommends
I came across Meryl after a google search of local realtors in Coquitlam. My parents were downsizing and needed a realtor to help sell their house. Meryl was listed as one of the top agents in the area. I read her good reviews, looked at her past listings, and watched a few of her videos. I chose her as I had a good feeling that she would be a good fit to work with my parents and I. She was down to earth, and easy to talk with. She was always available to answer any questions. We felt as if we were her only clients. Her team beautifully staged my parents' house. And the moment my parents' house came out on the market, Meryl was dedicated to showing it to as many buyers as possible. We noticed that her open houses were of longer duration than other realtors'. On our offer presentation day, Meryl communicated back and forth with buyers' agents to get the best offers possible for my parents' home. All we needed to do was review contracts and accept an offer. My parents' house was sold within a week at a great price that we couldn't believe was possible. This allowed my parents to have a good budget for their next property. We also hired Meryl as our buyer agent. She also did well in this role. She was able to strategize and communicate well during a multiple offer situation. This helped my parents give the winning offer to a beautiful condo. Meryl was hardworking, professional, smart, experienced, and had excellent communication skills. We will not hesitate to contact her in the future if we have any real estate need. And we would highly recommend her to our friends and family.
Evgeniya Pikulina
10/06/2020
recommends
Highly recommended, Meryl delivers everything she says. She was available at all time to pick up phone and answer any questions. Meryl personal integrity and professional demeanor are exceptional. My pre-sale deal was completed without a hitch. Thank you Meryl for your hard work and constant support.
recommends
Had the opportunity to do a condo inspection for one of Meryl's out of province client who was unable to be physically present during the inspection. Thanks to Meryl, the client was happy that she was able to do a live virtual walkthrough of her purchase just as though she was physically present during the inspection. It's always a pleasure to work with Meryl as she goes above and beyond to ensure a smooth and efficient process for everyone involved. I highly recommend buyers and sellers to work with Meryl and her team.
recommends
It was such a pleasure working with Meryl and Vince who seems to have all the answers to our questions. I would highly recommend her who made our busy days to seem relaxed and painless. Thank you Meryl for yours and Vince's help. 👍
recommends
As a first time homebuyer I couldn't have asked for a better realtor! Meryl was patient, super informative, and went above and beyond to ensure that I had the smoothest, best possible experience. Her contacts for related processes along the way (home inspection, broker etc.) were also excellent and a pleasure to work with. I highly recommend working with her!
recommends
Meryl is amazing. She truly went above and beyond as a realtor. She helped us with everything we needed to get our apartment ready for sale. As a result we got well above asking price! Then we helped find a Townhouse that we love. She is very professional, honest, detailed and just lovely to work with. We most certainly could not have done this without her, and I recommend her to all my friends and family.
recommends
I recently worked with Meryl as her Home Stager on a Maple Ridge listing. Meryl was so great to work with because she totally understands what it takes to sell a home! She was super friendly and a great communicator. I would highly recommend Meryl for any Real Estate transaction!
recommends
Got a chance to work with Meryl when she was at a law office. We had a mutual client completing on a purchase and she was extremely meticulous on helping our client thru the closing process. There was a couple out of the ordinary questions and Meryl was extremely knowledgeable and able to answer them! She has brought that same skill and knowledge to being a realtor. We worked together recently for another mutual client and it was amazing to work with her because it helps me with my job in attaining the clients financing. Together we were able to help our client purchase their first home!
Carlos R Gonzalez
28/09/2018
recommends
I recently listed with Meryl and it was an absolute pleasure. She is very knowledgeable, with a thorough understanding of current trends and felt nothing but trust when dealing with her. She is very diligent, ambitious and far exceeded my expectations. Going above and beyond to make sure my property was presentable, keeping me informed on current market data so that we can make the right decisions and selling it within a short period of time. She is very professional, educated and I would 100% work with her again. I strongly recommend her as I believe she is one of the top realtors in the lower mainland. Thank you Meryl for all your hard work. I have been WoW'd
Rochelle Dela Cruz
09/09/2018
recommends
It is out immense pleasure to recommend Meryl Hamdillah as a real estate agent for any individual or family searching for the ideal home for their unique situation. We wanted the best price for our house to move closer to our out of catchment school. Meryl had an initial meeting with us and took diligent notes regarding our specific needs in a selling our Coquitlam house in the rising market. She is highly talented technologically and made excellent use of the relevant search engines to accurately price our home in our neighbourhood. Meryl put up the for sale sign a 2 offers were proposed before we put the house on MLS. She was a master with the contract negotiations, and we were able to move out before school began in September. Throughout the whole process, we found Meryl to be a highly attentive agent, almost as if we were her only customers, although we know that was not the case. She returned all phone calls and emails the same day. We never felt neglected or unimportant. She is also highly personable with an engaging personality. I'm pleased to recommend Meryl Hamdillah to anyone looking to sell or buy a home. She is hands down the best in the business in our opinion and if we ever need to move again she will be our first choice in real estate agents.
SEARCH THE MLS

PORT COQUITLAM
2 BED 2 Bath
2 BED 2 Bath Condo – Central Park Poco
Central to Downtown Coquitlam & PoCo
SURREY PANORAMA/SULLIVAN STATI

ON

5 BED 4 BATH DEN Exec Home
Panorama Village

Desirable Location | Upgraded Like-New
SOLD

PORT COQUITLAM

4 BED 1 FLEX 4 BATH | Lower Separate Entrance –
CITADEL HEIGHTS

Westcoast Luxury
Highly Desirable Area!
SOLD

VANCOUVER INVESTMENT HOME

7 BED 3 BATH on Duplex-zoned lot
RENFREW HEIGHTS

RENTAL INCOME OPTIONS – SOLD under 1 week
SOLD

2 BED 2 BATH CONDO

ACROSS CITY OF LOUGHEED

2 BED 2 BATH BURNABY
LOUGHEED | SULLIVAN HEIGHTS

VERY UNIQUE AMENITIES INCLUDE POOL, WOODWORKSHOP, PAINTING STUDIO
SOLD

COQUITLAM WESTWOOD PLATEAU

6 BED 1 FLEX 3 BATH – Westwood Plateau

SOLD at 1st OPEN