METRO VANCOUVER MARKET REPORT
July 2020
In previous months, we predicted that there was a seasonal shift of peak activity towards late summer. This appears to be the trend.
In July, there were 3,145 home sales which is a 28% ▲ from last month and a 22.3% ▲ from July last year. July sales rebounded from record lows to 9.4% above the 10 year average. As predicted, the seller's expectations are adjusting to meet pent up demand since COVID-19 lockdown. The record sales may just be a result of the delay in seasonal peak activity.

The total number of homes currently listed for sale on the MLS® system in Metro Vancouver is 12,083, a 15.1% ▼ compared to July 2019 and a 5.8% ▲ compared to June 2020.

There were a total of 5,948 newly listed properties for sale across Metro Vancouver in July 2020. This represents a 28.9% ▲ compared to July 2019 and a 2.8% ▲ compared to June 2020.

These trends may explain why we are seeing more tenants becoming first-time home owners and more families upscale their homes enabled by low interest rates.
Benchmark Prices
Generally for July the benchmark prices of homes have been steady.

The MLS® Home Price Index composite benchmark price for all residential properties in Metro Vancouver is currently $1,031,400. This represents a 4.5 per cent increase over July 2019 and a 0.6 per cent increase compared to June 2020.

The benchmark price for a detached home is $1,477,800, a 5% ▲ from July 2019 and a 0.9% ▲ compared to June 2020.

The benchmark price of an apartment is $682,500, a 4.2% ▲ from July 2019 and a 0.3% ▲ compared to June 2020.

The benchmark price of an attached home is $797,700, a 3.7% ▲ from July 2019 and a 0.9% ▲ compared to June 2020.

Sales to Active listing ratios
The sales-to-active-listings ratio is defined as the number of home sales divided-by the number of listed homes during the month.

For all property types, the sales-to-active listings ratio for July 2020 is 25.9%.
By property type, the ratio is:
25.1% for detached homes,
31.1% for townhomes,
24.7% for apartments.

Generally, analysts say downward pressure on home prices occurs when the ratio dips below 12% for a sustained period, while home prices often experience upward pressure when it surpasses 20% over several months.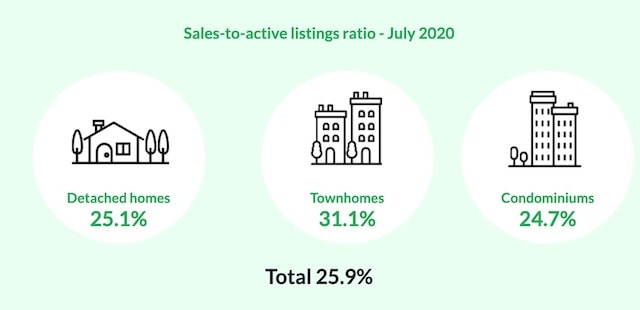 Author:  Meryl Hamdillah, REALTOR with Sutton WestCoast Group.
If you are looking for a realtor to help you buy or sell a property in Coquitlam or Vancouver, feel free to Chat with me now! 604-307-9506
Metro Vancouver Market Report Summary for July 2020
Market Insight
BCREA's Chief Economist Brendon Ogmundson's point of view to some very common questions:

1. What long-term impact will COVID-19 have on our economy and housing market?

For the first time in over a decade, the BC economy is in a recession. But this recession is unprecedented in that it didn't happen due to collective poor business decisions, rapidly rising interest rates, bad loans, or misadventures in financial engineering. Rather, the economy has been purposely halted for the greater good. The implication being that, the shorter the duration of this unusual period, the more likely it is that demand can more readily return to where it was pre-COVID-19 and the outsized employment losses experienced this year can be reversed.
The ultimate impact of COVID-19 will depend on how quickly economic activity can return to its pre-COVID-19 level. The speed of the recovery will depend on the level of comfort people feel in getting back to work, going to the store, or catching a movie with friends, a variable that's ultimately unforecastable. As the economy "re-opens" and as the industry along with buyers and sellers adapt and innovate, we expect home sales will rebound, aided by record low mortgage rates and pent-up demand. While the way we do those things in a post-COVID world will certainly change, I'm optimistic the economy will bounce back strong in 2021, with the housing market leading the way.

2. What home price changes and other long-term trends do you expect to see?

The impact of the current pandemic and associated recession on home prices is largely determined by the reaction of supply. If the inventory of listings accumulates significantly, and particularly if that inventory represents foreclosures or motivated selling by those affected by rising unemployment, then prices will be more severely impacted.
However, given the unusual nature of COVID-19, the supply of listings for sale has declined for at least the first month of the pandemic. It's likely that even as social distancing measures ease and normal recession dynamics take over, the total supply of homes for sale will peak at a lower level than would be expected given the underlying economic turmoil.
A muted rise in for-sale inventory along with plummeting interest rates and pent-up demand may translate to home prices remaining relatively firm in 2020. In fact, this is a scenario we often see during recessions. Look back on the 2008/2009 financial crisis and recession, truly a frenetic and frightening time. While benchmark home prices in Vancouver moderated slightly, by early 2009 they were rising once again, leading to a double-digit average increase over the next two years. While a repeat of the post-financial crisis prices growth isn't our baseline forecast, it's illustrative of how Vancouver home prices have fared, even under an otherwise extremely challenging economic climate.